To celebrate the start of National Nutrition Month, we sat down with Amber Worst, our registered dietitian here at OnSite Wellness! We learned more about her and her passion for helping others live healthier lifestyles. She also shared some quick healthy eating tips and her favorite dietitian-approved dessert.
You can check out the full interview below.

What inspired you to become a dietitian?
I didn't start off knowing I wanted to be a dietitian. Up until college, when I took an aptitude test, I had not known of the profession. When I started doing some digging and learning the science behind foods and how they really impact our body's health, I found it intriguing. I love working with people and helping them expand their knowledge of food. It's gratifying to see people grow and change to become the healthiest versions of themselves.
How did you get started with OnSite Wellness?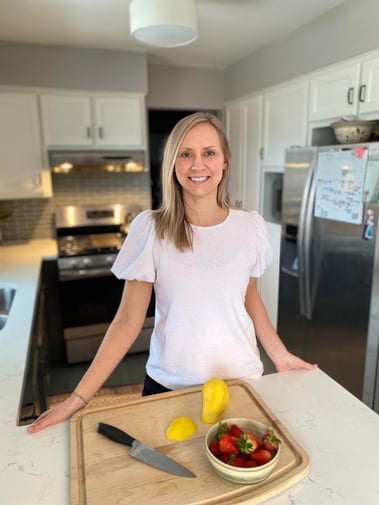 I started with OnSite Wellness as an intern when I was finishing my dietetic internship. I would help with biometric screenings or anything else I could help with — it was a great way for me to gain experience and get my foot in the door.
What are some of the most common nutrition questions you get asked?
"What should I eat to lose weight?" — This answer is unique to each person. I usually start by asking, "what are some of your weaknesses, or what are some things you could do better in your diet?"
"What do you think about a low-carb diet?" — It's restrictive and it comes with potential health risks, so I don't usually recommend it.
Do you have any tips on how someone could make healthier food choices?
My biggest advice would be to start small. Choose something to focus on, such as increasing water intake or adding more fruits and vegetables to your diet. Whatever the change, focus on it for a week or two to make sure it sticks. This will increase the chance of making those healthier choices sustainable.
What's one of your favorite meals that you make at home?
I love being in the kitchen. It's a creative outlet for me. I like trying new recipes, but I'm terrible at sticking to recipes — usually, I'll swap ingredients or I will add in more vegetables. Currently, I have three young kids at home, so sheet-pan dinners are my go-to. I can prepare them ahead of time and just cook them later on. Here's one of my favorite recipes:
• 2 packages of chicken sausage
• 1 cup broccoli, chopped
• 1 cup cauliflower, chopped
• Sweet potatoes, cubed
• 2 cups of carrots, chopped
• 3 tablespoons extra virgin olive oil
• 1 teaspoon of chopped garlic
• 1 teaspoon salt
• 1 teaspoon thyme
• 1 tablespoon Rosemary

Preheat oven to 400 degrees F. Put all of the chopped vegetables in a large bowl and drizzle the olive oil and add the seasonings. Mix well. Then, pour out on a sheet pan. Place the sausages throughout the pan in between the vegetables. Cook for 30 minutes in the oven, and make sure to flip vegetables every 10 minutes. Remove from the oven and let it cool for 5 minutes and enjoy!

What's your favorite dietitian-approved sweet treat?
Smoothies! I feel like when I need a sweet treat, smoothies are sweet enough to curb that craving but they're also satisfyingly nutritious. The base of my smoothie is usually 1/2 cup of oats, 1/2 cup Greek vanilla yogurt, any fruit, and a handful of spinach.
What's your favorite way to get moving?
Walk the dog. We have an 8-year-old pug named Cooper. He is a great motivator to get me outside and walking because I know he needs his exercise, too. It's a great way for me to get20–30 minutes of fresh air and clears my mind. Being outside is so good for the soul.
What do you enjoy doing in your free time?
In my free time, I love hanging out with friends and family and getting outside. I am excited for the warmer Michigan weather. One of the things I enjoy Is gardening — our strawberry plants are already popping up.
What is your favorite part about your profession and working with OnSite Wellness clients?
My favorite part about working with clients is helping them find that "aha!" moment where they realize they have the tools to make the changes to live healthier. Their goals may be different — such as losing weight or lowering their blood sugar — but when they are able to live a healthy lifestyle and make food choices with confidence without struggling, that is such a great feeling for me.
---
At OnSite Wellness, employee health and wellness is our specialty. Incorporating an employee wellness program at your workplace can have massive benefits for your employees in tracking and managing a healthy lifestyle. Let us help you reach your goals and set your employees up for success! Contact us today to get started.