If you are in Southeastern Michigan, you might know Bank of Ann Arbor (BOAA) as the company with the clever billboards that make you laugh when you fly past them on the expressway. You might also know BOAA as the bank with the slogan "We Love to Help." What you might not realize is how true that statement is when it comes to the wellbeing of their employees.
"Bank of Ann Arbor has a phenomenal program," said Amy Ritsema, Co-Owner of Onsite Wellness, LLC, "It has a very complete focus, and it's a very successful program with great engagement."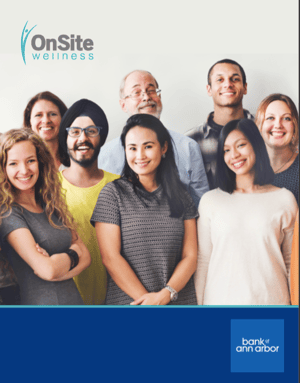 Onsite Wellness started working with BOAA in 2014 when Jim Miller, BOAA Vice President and Director of Human Resources, was looking for a way to drive more engagement in the bank's wellness program. At the time Miller started with BOAA, the wellness program largely involved health risk appraisals. These appraisals are common tools used in corporate wellness, but
don't tend to be that engaging or employee focused. Miler wanted to design something that was more employee-focused and present year round.
"I started out giving our program a scorecard, which was missing," said Miller. "People, especially bankers, tend to like to keep score – they like to say, 'How am I doing?'"
Together, Onsite Wellness and Miller took to implementing a program that allowed employees to get points for physical activity, health screenings, attending wellness lectures, working out, and much more. Participation in the BOAA wellness program not only keeps employees healthy but it earns them money too, with employees receiving significant discounts on their health insurance premiums. In fact, as Miller points out, BOAA employees that participate in the wellness program are actually paid $5 per month to be on the bank's high deductible insurance plan!
"Having a great incentive helps drive this [program]. Consistently, year over year, once we put the points system in, we've been running at about a 96-98% participation rate of people who are on our health plan," said Miller, who also points out that this isn't just limited to people on their health plan. Overall participation in BOAA wellness program is around 87%. This is an astounding statistic given that a recent National Institute of Health study found that the median participation rate in employee wellness programs was 40% (Mattke et al, 2015).
Driving that much engagement requires a significant commitment to continually improving the wellness program, and it's clear that is a major point of emphasis for BOAA and Miller.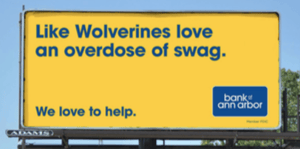 "I try to change things up, do interesting things," he said. "We introduced rock climbing several years ago…we've partnered up with a local indoor cycling facility…we've partnered with a yoga studio in Plymouth. We also partner with Jewish Family Service, who does a lot of clinical behavioral work."
With such varied offerings, BOAA seems to have found a way to engage a variety of interest within their employee population, but that's only part of removing barriers to participation. All of BOAAs wellness programs and fitness classes are free of charge to the employee as the bank picks up 100% of the bill when employees go to classes at any local fitness or wellness partner.
"What always stood out for me when it comes to how BOAA distinguishes itself is particularly Jim [Miller]'s willingness to put the employees first when it comes to wellness," said David Back, Onsite Wellness' account manager for BOAA.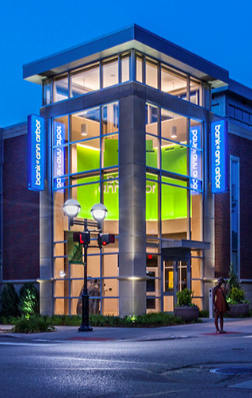 "I think culturally they have a very unique vibe in the sense that they're very proactive in terms of what's hot and new in the wellness word," said Senika Walcott, Onsite Wellness' account Director for BOAA. "Jim [Miller] is always willing to throw something at the wall to see if it sticks. Banking is very high stress and you have to have a very good sense of humor about wellness and incorporate it in all its different facets. We're not just talking about fitness; it's about getting people to think of their whole selves. They love fitness and definitely preach it…but they really try to incorporate wellness for the whole person."
This commitment to wellness for the whole person has paid off for BOAA financially since they've seen, according to Miller, a "double digit decrease in our healthcare costs year over year…it's good…especially nowadays."
But as Miller continues to emphasize, it's more than just the financial benefit.
"It really gets back to our culture," he said. "When we find the kind of people that buy into our culture, we want to hold onto those people as long as we can. We try to offer things that help them lead the healthiest life they can."
Miller points out that for BOAA it's about impacting their employees life in both subtle and dramatic ways and that can filter down to the customer experience.
"We spend more on this [wellness] than we get in return, but if we can make one or two small changes in their life that can dramatically alter their whole life, not just their work life with us – that is a huge reward," said Miller. "Our people show they care about our clients as much as we care for them."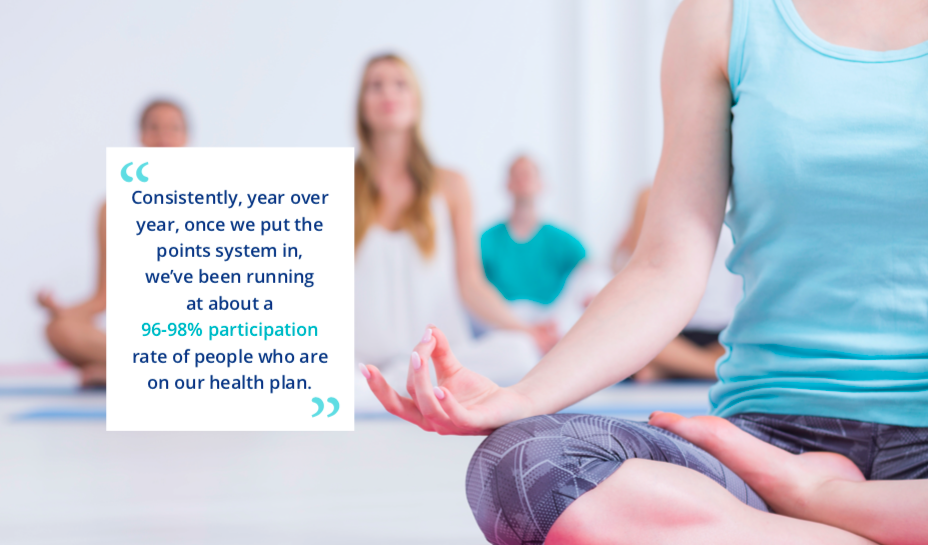 It's very clear the BOAA wellness program has a dramatic effect on their culture, customer service, and employee satisfaction. With such amazing results, you may be wondering why more companies don't invest the time, effort, and energy into corporate wellness.
Many sources site cost as the primary reason for not implementing such programs, but this notion might be misguided, as organizations don't have to go "all-in" like BOAA has.
"I think a lot of groups are starting smaller now," sensed Walcott. "Like any fitness or wellness change [for the individual], you have to start small."
Ritsema advises companies start by getting educated. "I would highly encourage [companies] to at least have the conversation," she said. "What is this, what could this look like, what could I do with my budget? Just open the door to concept and the idea."
Perhaps, though, it is Ritsema's final point that is more important: "Can you really afford not to do something?" she asks. "Organizations are paying more and more every single year for healthcare, and they're not really questioning spending millions of dollars on healthcare. If they even took 5% of that budget and put it to prevention, it could make a real difference."
BOAA and Onsite Wellness' partnership has really resulted in something extraordinary for the bank's employees and culture. This article serves as an example of what can happen when putting an employee's wellbeing first becomes a priority of an organization. Kudos to Bank of Ann Arbor for their commitment to the statement "We Love to Help" by starting with their own employees first – it is a great example for all organizations.