Goodbyes are never easy. And although it's often sad to say goodbye, it just means that it's the start of a new, beautiful chapter. Our client services manager, Roy Zuidema, is officially retiring at the end of this month after three fun-filled years with OnSite Wellness.
To celebrate his career and role at OnSite, we sat down with Roy while he reflected on his time spent in the corporate wellness field. We asked him about some of his biggest career highlights, what he's learned over the years, and, most importantly, where he's traveling next.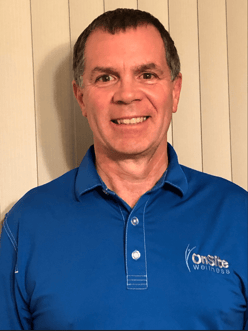 How long have you worked in corporate wellness?
I've worked over 40 years in corporate wellness. As a grad student, I had the opportunity to work with a premier individual in wellness, Dr. Dee Edington, at the University of Michigan. After graduation, my first gig was building a program at a college down in Georgia. I then spent the bulk of my career (24 years) at The Wellness Center. The next 10 years, I enjoyed working for Calvin University. The last few years included a year with Priority Health, a year and a half in Connecticut, and I've been at OnSite for the last three years.
What drew you to the corporate wellness field?
It's interesting because I went from Calvin University with a P.E. degree to grad school over at the University of Michigan thinking I would get into cardiac rehab. When I was a student there, I got involved very quickly with the fitness research center, which was the brainchild of Dee Edington. At The Wellness Center, we did research with Dee and Steelcase that was published and became one of the premier studies in the wellness business back in the '80s and '90s.
When I got involved with Dee and the fitness research center, I transitioned from rehab to the preventative side (of wellness). And I never looked back. Instead of dealing with somebody after the heart attack, I wanted to help prevent those things from happening.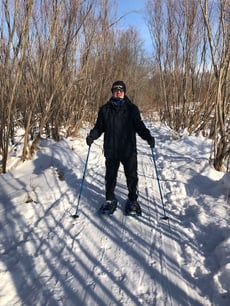 What are some of your favorite moments working at OnSite?
My strength is in building relationships and I've always been the person saying, "If we want to make a difference in people's lives, we have to get into their lives. We have to have that trust and build relationships."
I was able to do that with the clients that I had at OnSite Wellness — some of them were manufacturing, some of them professional. There's a wide variety of clients we get to work with at OnSite and I really appreciated that. And because we go on-site to our clients, we really get to build those relationships.
What are some of the most important things you've learned durin
g your time at OnSite?
In the last 10 years, wellness has transitioned a bit. I've really been promoting that at OnSite. Purpose has become a bigger thing in wellness now — when I talk to people, I sit them down and ask if they have a purpose in their lives. Purpose plays a big part overall in our well-being; I've learned how to introduce it and push for it. And OnSite has allowed me to grow in that area.
What are some challenges you've had throughout your career?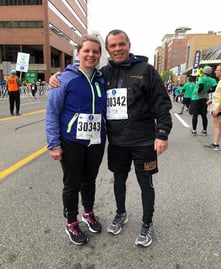 Human nature. We tend to put things off that don't have immediate results.
Things like "I know I should exercise," "I know I should eat right" — we put them off because they don't have instant results. But they do have long-term consequences. And by human nature, we don't react to the long-term consequences as readily as we do those immediate results. That's always been the biggest challenge.
I say often, "My goal in life is to work myself out of a job." If I'm making a difference, and I'm successful 100% of the time, I wouldn't have a job because everybody would be healthy.
What are you going to miss the most about working at OnSite?
The people. Not only the people at OnSite, but all of the people from our corporate clients. I've just had some really great clients.
What's next for you?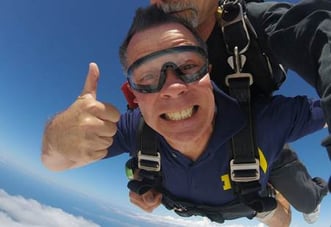 My bucket list is so long — I will not have any problem there.
I love to travel, so I'm going to do more of that with my wife. I also want to get more biking in. I told people that on Friday, that first day of retirement, I'm going to hop on my bike and bike up to Rockford, stop at the brewery and get a drink, then bike back.
I'm looking forward to more biking and hiking — I also run a few times a week. I'm torn on whether or not I want to do a triathlon again.
I love to cook, so now I'll have more time to try new recipes. I like to try all kinds of different things. I mentored a student from Korea for four years and he introduced me to bibimbap, so I make that a lot. I've been to Spain a couple times, so I can do some things from Spain, like Tarta de Santiago.
And I have four kids and four grandkids, so they'll keep me busy.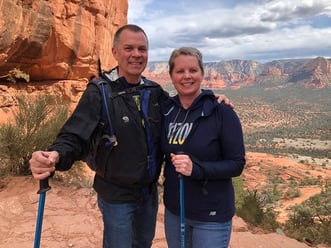 Where'd you like to travel next?
National parks. It's a long list that I'll do over some time. But I've taken groups over to Europe — I took two groups hiking the Camino de Santiago and took another group biking in the Netherlands. My roots are in the Netherlands, so I'd love to take my wife to do some biking in those areas where our family is from. There is so much to explore. Hiking-wise, at the top of my list, I want to hike Kilimanjaro. That's the ultimate hike I want to do.
What advice do you have for those still in the workforce?
From a professional standpoint, some things I've always pushed are "what are we ultimately trying to accomplish?" and "how are we best going to get there?" If what we've been doing for 10, 20, 30 years isn't working, then it needs to change. I encourage those in the wellness field to look at best practices.
From a personal standpoint, I just say, "You can do it." You need to hold some people's hands more than others, but you just have to meet people where they are, and help them along. We're not doing things to people or for people, we're doing things with them.
---
At OnSite Wellness, employee health and wellness is our specialty. Incorporating an employee wellness program at your workplace can have massive benefits for your employees in tracking and managing a healthy lifestyle. Let us help you reach your goals and set your employees up for success!
Contact us today to kickstart your wellness journey.