You've done all your research and know the benefits of bringing a wellness program to your employees. Now what? A critical next step is to get your top leaders to buy-in to wellness (not just sign off, but truly support and believe in it).
Why is this so important? As with any initiative, leadership support will determine its success or failure. Organizations with wellness programs "almost always have a higher rate of participation when there is support from the top," says Mary Kline, co-owner of OnSite Wellness LLC and Michigan Wellness Council board member. And higher participation means that more employees are aware of their health and well-being and may be doing something to improve it.
Implementing a wellness program with low leadership engagement will likely lead to low participation and program failure. If leadership doesn't show that they value wellness, "now middle management doesn't see a value either which trickles down to every employee," says Mary. And without leadership buy in, there is the likelihood that wellness efforts may not be adequately funded. So make them value it! With kindness of course, this is a blog about wellness after all. Don't allow your leaders to underestimate the value of employee health and wellbeing.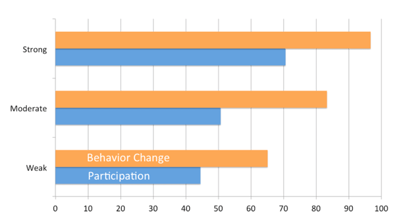 A case study done by WellSteps and Kaiser Permanente took at look at the impact that leadership support had on the number of employees who participated in the wellness program and who changed at least one behavior. As you can see in the graph below, companies who had strong leadership support in the wellness program had greater participation and behavior change results.
Another study was published in 2016 by the Institute for Health and Productivity Studies to identify key success elements of employer-sponsored health promotion (wellness) programs. Researchers conducted an updated literature review, held discussions with subject matter experts, and visited nine companies with exemplary programs to examine current best and promising practices in workplace health promotion programs. As a result, the researchers determined "in these successful programs, leaders consistently express the importance of employee health and well-being to the organization (through words, actions, and policies) and devote sufficient resources to health promotion efforts, even if programs are not expected to save money immediately."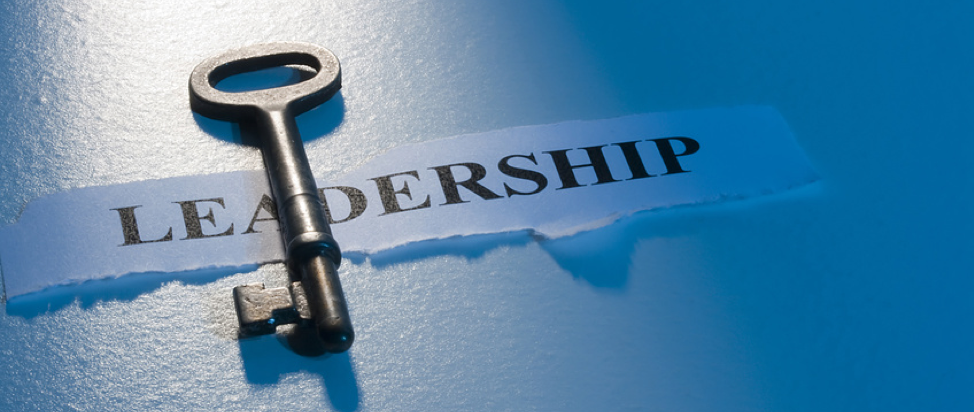 Okay, so this blog could go on forever with study after study showing how important leadership support is in making or breaking a wellness program (here's another if you need it). So how can you sell wellness to your leaders and what can they do to show their support?
The good news is that building leadership support doesn't have to be cumbersome or complicated. "If leaders truly value their employees and care about their well-being at work and at home, it is an easy sell" says Kline. "It's caring about their people as their most valuable asset."
What does leadership support look like?
Here are ways you can invite leaders to support wellness. Have them:
Lead by example by visibly participating in the wellness program by getting involved in a team challenge or event, they can even encourage some friendly competition.
Support policies that create a healthy environment:

Tobacco Free Campus Policy
Healthy vending machines
Healthy foods at meetings
Encouraging health breaks
Walking paths

Make wellness a part of regular company communications (don't worry, they don't need to suddenly be health experts and write blogs on wellness… there's plenty of free resources and newsletters they can utilize. If you work with a vendor, your wellness vendor can provide material, too.)
Be involved in strategic planning (or at least be regularly updated. You don't want a leader walking in to a meeting where everyone is stretching and not know it is part of a current wellness program..)
Encourage the organization to meet specific wellness goals
Recognize employees for achievements in the wellness program
Frame the issue. If your leaders are numbers girls (or guys), speak their language. Help them see that a well supported program can lead to positive change in a number of ways. "The focus should not be totally on health plan costs. Productivity, employee retention, and workers compensation costs should also be a focus of a wellness program," states Mary.
Don't forget to add the humanity angle. Tell stories. Provide brief testimonials. Help them see that wellness is much more than dollar signs and ROI.
Tie wellness to organizational goals, mission, & values. "Make people and their health a core business strategy," urges Mary. The strategy of weaving wellness into policies, organizational goals, mission, & values, keeps wellness at the forefront. Show leaders how wellness fits into the corporate values or tweak the values to show leaders how they can fit. This is also a first step in changing the culture at an organization so health & wellbeing can thrive.
Timing & preparedness. When is the best time to bring the topic of wellness to leaderships attention? "Typically, we find HR bringing up the topic at budget or health plan renewal times, but this might not be the best time due to so many distractions within the budget or plan renewal. Instead, have the conversation when wellness can be the sole focus of the conversation. This gives it the laser focus it deserves," says Mary.
At the end of the day, the goal is to help your leaders understand that they are essential to the success of any wellness effort. To put it simply: their leadership and example can impact more than the bottom line. They have the opportunity to create a culture where their employee's health and wellbeing thrive. Now it's time to show them how it can be done.
Looking for more resources? WELCOA has their 6 Steps for Capturing Leadership Support for Wellness Initiatives planning template.
Read our blog below to find out just how Corporate Wellness programs can lower medical claims below:
https://blog.onsitewellnessllc.com/wellness-lowers-medical-claims
Resources:
https://www.onsitewellnessllc.com/now-offering-wellness-solutions-for-small-businesses/
https://journals.lww.com/joem/Abstract/2016/02000/Promoting_Healthy_Workplaces_by_Building_Cultures.2.aspx
https://www.ncbi.nlm.nih.gov/pubmed/29649899
https://www.wellsteps.com/blog/2018/01/04/start-an-employee-wellness-program/
https://www.welcoa.org/resources/capturing-c-suite-support-critical-questions-discussion/?maillist=