After a jam-packed summer full of lazy beach days, picnics, and backyard barbecues—we're ready to get back into the kitchen to cook our hearts out. As soon as there's a slight chill in the air, we're all about the meals that bring us the most comfort—think homemade soups, chili, pasta, and roasted root veggies.
Amber Worst, our registered dietitian, has shared some of her favorite fall recipes that are quick and easy to whip up in the kitchen.
Baked Penne Pasta with Sausage

—12 oz of uncooked whole wheat penne pasta

—4 oz of bacon, diced

—1 large onion, chopped

—3 garlic cloves, chopped

—1 lb ground Italian sausage

—1 cup dry red wine

—1 (28 oz) can of crushed tomatoes

—1/2 cup fresh basil, chopped

—1/2 teaspoon kosher salt

—1/2 teaspoon dried crushed red pepper

—1 cup ricotta cheese

—1 cup of shredded mozzarella cheese

—1/2 cup grated parmesan cheese

Preheat the oven to 350 degrees F. Prepare penne pasta according to the directions for al dente.

Meanwhile, cook bacon in a large skillet over medium to high heat for 3 minutes. Add onion and garlic and sauté 3 minutes or until onion is tender. Add sausage and sauté 5 minutes or until meat is no longer pink. Add wine and cook 3 minutes. Stir in tomatoes and next three ingredients. Reduce heat to low and cook—stirring occasionally—for 3 minutes.
Stir ricotta and 1/2 cup mozzarella cheese into hot cooked pasta. Lightly grease a 9x13 inch baking dish with cooking spray. Transfer pasta mixture to prepared dish and top with sausage mixture. Sprinkle with parmesan cheese and remaining ½ cup of mozzarella cheese. Bake at 350 degrees F for 25–30 minutes, or until bubbly.
This dish is full of flavor. I like to double batch this and freeze one pan for later. Because this dish is on the heavier side, I like to balance it out with a green salad or another green vegetable side dish.

Apple and Walnut Salad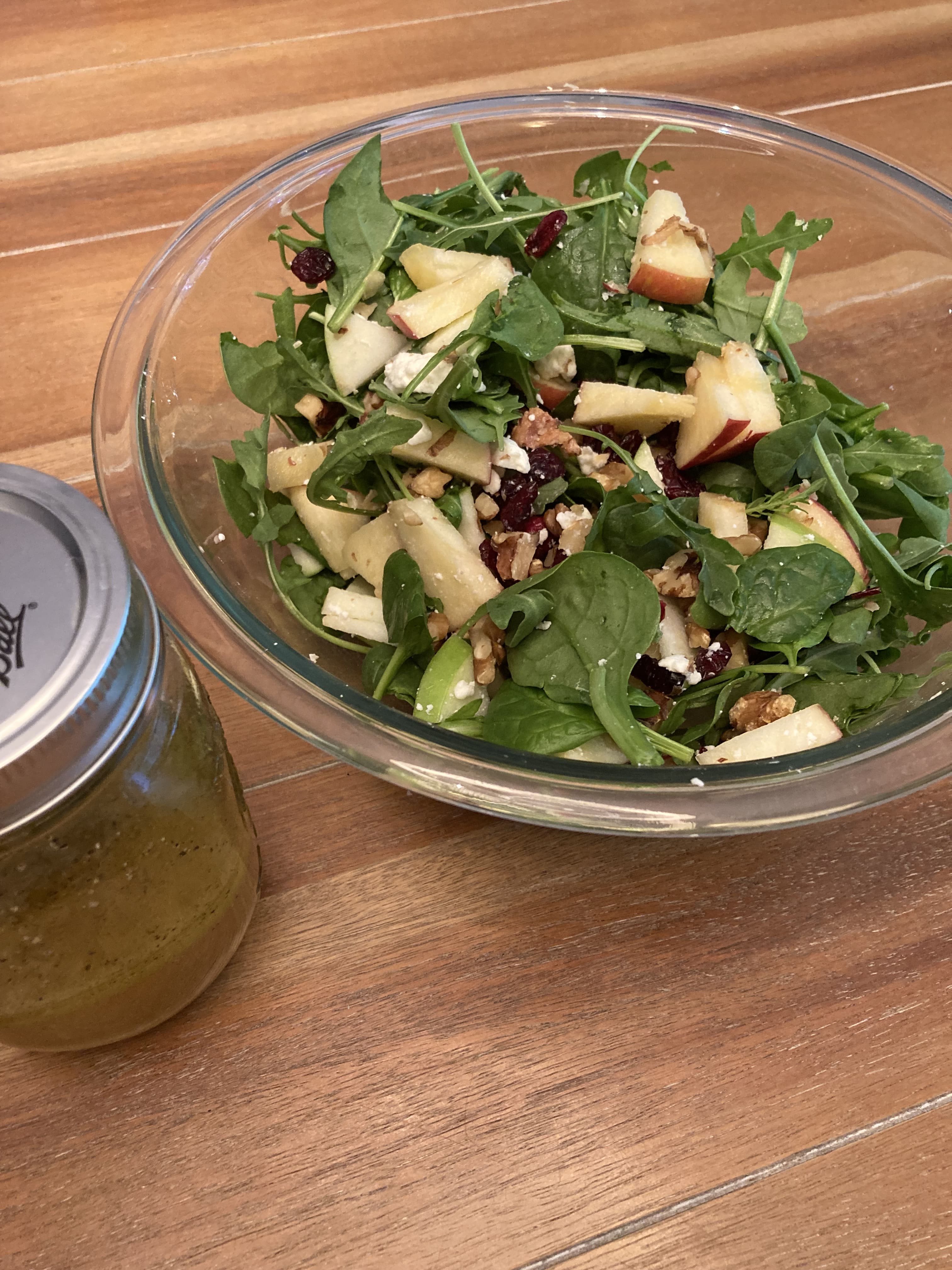 Salad base:
—3 cups spinach (or you can use a spring green mix)

—1 medium red apple

—1 medium green apple

—1/2 cup chopped walnuts

—1/4 cup crumbled feta cheese

—1/4 cup dried cranberries

Mix ingredients together in a bowl.

Dressing:

—1/2 cup apple juice

—2 tablespoons apple cider vinegar

—1 tablespoon of honey

—1/4 teaspoon salt

—1/4 cup olive oil
Combine all of the dressing ingredients in a jar and then mix. Add and stir over the salad just before serving.
This salad is great as a side dish or you can add a protein—like chicken—and make it a main dish. The ingredients offer a sweet and savory palate. Spinach is high in protein and other nutrients. It's great for bone health and it helps promote cardiovascular and eye health.

Homemade Pizzas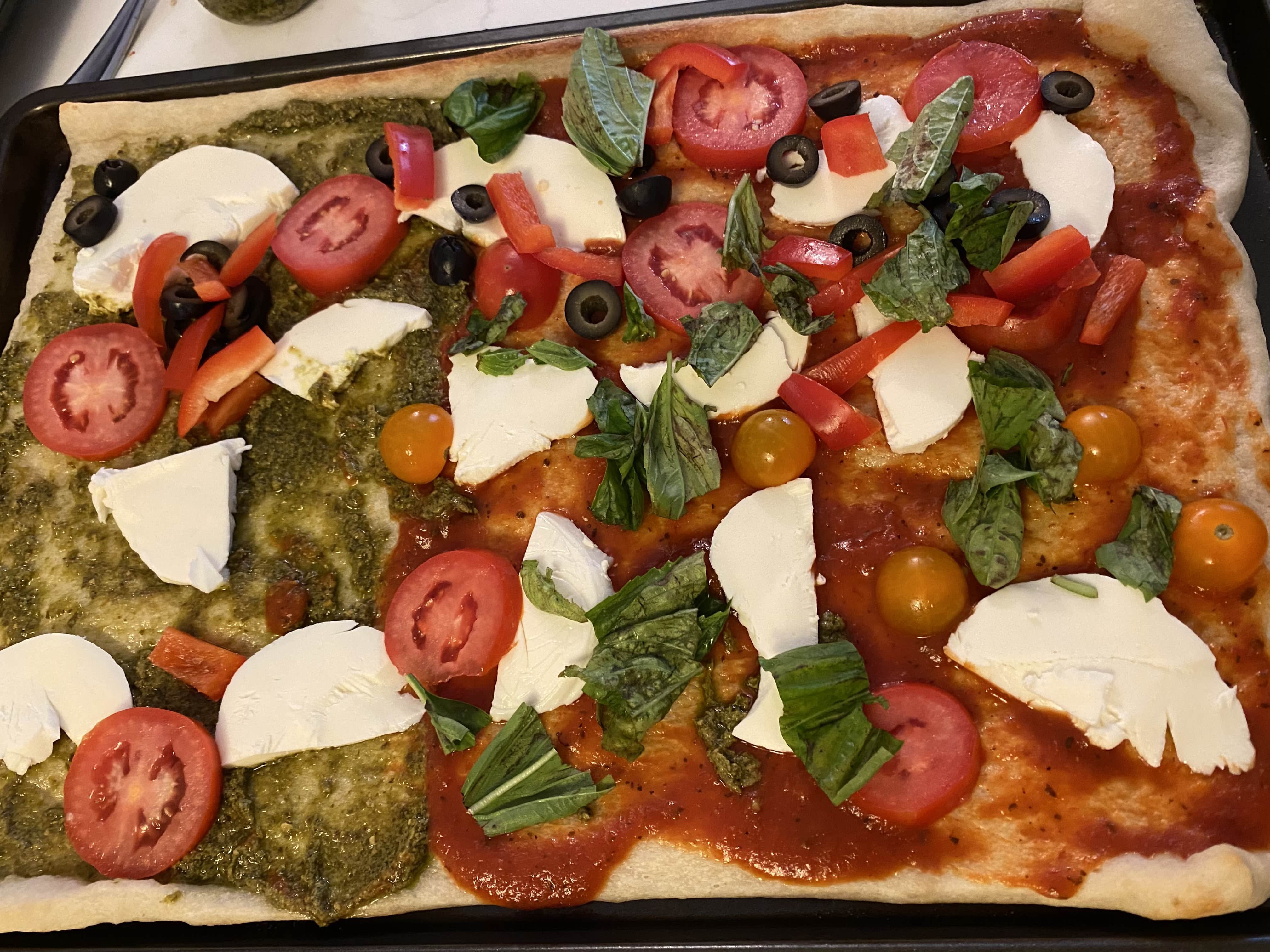 Dough:

—1 cup warm water

—1 tablespoon sugar

—1 package dry yeast

—1/4 teaspoon salt

—Flour

Pizza toppings:

Pizza sauce, pesto, mozzarella cheese, etc.
Meats: Chicken, ham, pepperoni, sausage, etc.
Vegetables: Peppers, mushrooms, onion, artichokes, olives, etc.

Dough: Mix the ingredients for the pizza dough. Keep adding flour until it won't absorb anymore. Put in oven-safe bowl and cover with a damp cloth. Put in the oven at 200 degrees for 30 minutes.

Making the pizza: Grease a pizza pan. Spread the dough on top. Spread your choice of sauce on the top of the dough and then add the cheese. Lastly, add the meat and vegetables. Bake at 450 degrees F for 25 minutes or until crust is done.

This is a fun activity to do with your family, and it's great to grab different toppings and try out a variety of combinations. I personally like to add a lot of veggies to my pizza.
By chopping the vegetables bite-size, I can have some variety on my pizza without it getting too heavy. Be sure to distribute all of your toppings evenly so that your crust cooks evenly, too.
We hope these recipes will bring you comfort and inspire you to get more creative in the kitchen this fall.
---
At OnSite Wellness, health and wellness is our specialty. Incorporating a wellness program at your workplace can have massive benefits for your employees in managing their health. Contact us to learn more!